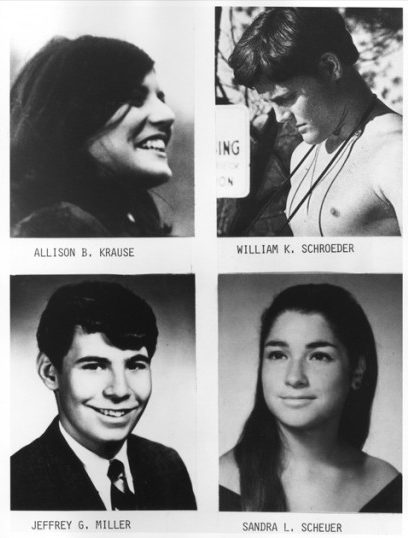 Fifty years ago this Monday at Kent State University, four students were killed and nine wounded when National Guardsmen fired on protestors during a mid-day rally to protest the Vietnam War and the Guard's occupation of the Kent State campus. What happened that day was an American tragedy — for the students, of course; for the Guardsmen, who were terribly led; and for the University, whose administration went missing in action at the critical moment. All the toxic waters of the 1960s flowed together at Kent State that weekend, in the worst possible way and with a terrible outcome. Writing 67 Shots: Kent State and the End of American Innocence broke my heart time and again.
Please take a moment Monday to remember the dead: Allison Krause, Jeffrey Miller, Sandra Scheuer, and William Schroeder. And also please keep in mind what Janice Marie Wascko, who was one of the students protesting that day, told me: "If there's no forgiveness, there's no healing, and the murder goes on forever."
I'll be talking about the Kent State shootings on C-SPAN's Washington Journal Sunday morning, beginning at 9 a.m. ET.